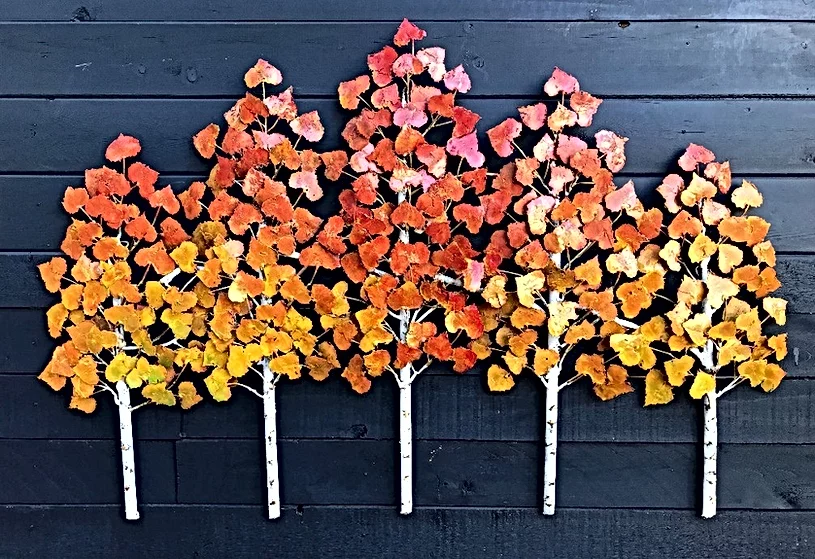 Kelly Smith Cassidy, a second generation sculptor, creates welded bronze and copper wall and table-top sculptures of aspen and pine trees – and much more. Within the 24 years that Kelly has been creating her artwork, she has sold hundreds of sculptures mostly through commission (Kelly can create Photoshopped designs on the photos of clients walls).
Working in her home studio in South Lake Tahoe, Kelly melts, bends and welds together bronze and copper metals into organic forms and some shaped around local rocks. She then paints each piece with acrylic inks, gauche and pigments and seals each one so that they can be displayed indoors and outdoors.
Kelly has created two grant monumental sculpture installations for Burning Man: "Creu Hudol", a female robot effigy made of carved wood, glass and crystal which she completed in forty-four days for the Burning Man event in 2018, and Burning Man's first civic plaza, "E Pluribus Unum"
for the 2019 event. She received an Honoraria grant in 2020 for her piece, "Infinite Stare", a 15 foot head and shoulders and the face open and head hollowed out which will be installed for the event in 2021.
Kelly lives in South Lake Tahoe with her husband Kevin and their golden retriever Kodiak Bear.